Business Financing
The San Joaquin County Economic Development Division offers technical assistance
to businesses located in or expanding to San Joaquin County that create or retain jobs.
The professional staff works with local lenders, the Small Business Administration (SBA), and the County's Revolving Loan Fund (RLF) to select the best source for financing. Loans may be arranged for the startup, retention or expansion of business activities in San Joaquin County.
If you are interested in utilizing services through our Revolving Loan Fund program,
please contact us at RLF@sjcworknet.org or by calling 209-468-3615.

We have recentlly updated our application process to move fully online!

Click here to apply for the Revolving Loan Fund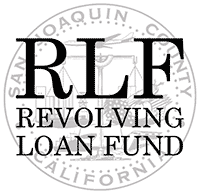 Businesses Affected by COVID-19
Has your business been affected by the COVID-19 Pandemic?
The San Joaquin County Revolving Loan Fund is offering relief through its Emergency Business Support Fund (EBSF) loan program.
Click Here for more information »
Revolving Loan Fund Board Meeting Information

RLF BOARD MEETING AGENDA - 8.10.2023
| | |
| --- | --- |
| Loan Products | RLF Loan Financing: Business Incubator, SmallCap, and Traditional |
| Targeted Customer: | For startup, gap financing, expansion or location of businesses in San Joaquin County. |
| Use of Funds: | Acquisition of owner occupied land and facilities, building construction or remodeling, purchase of equipment, furniture, and fixtures, leasehold improvements, working capital needs, and/or inventory |
| Method: | Direct loan to individuals. |
| Specific Requirements: | One (1) job created or retained for every $75,000 loaned, and proof of loan denial from a traditional lending source. |
| Terms and Interest Rate: | Fifteen (15) years maximum term, but generally not exceeding the full useful life of the asset(s) being financed; and the interest rate is set at the West Coast Prime Rate +2-4%. Typical loans range between $25,000 - $150,000. Maximum RLF loan is $1 million. |

CONTACT: